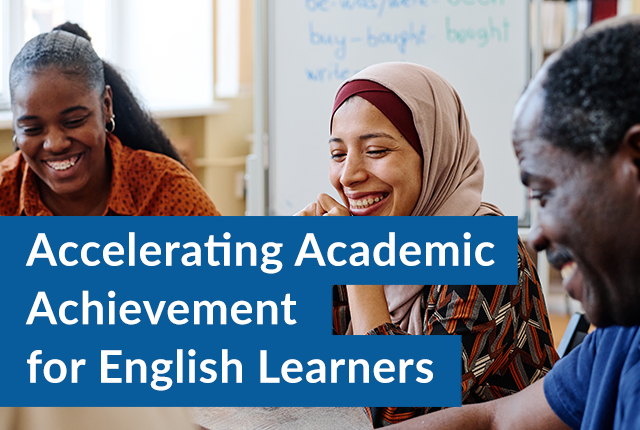 Workgroup on English Learners in Public Schools
With its emphasis on equity, the Blueprint for Maryland's Future established the Workgroup on English Learners in Public Schools and charged it to study the availability of and access to resources for English learners and their families and make recommendations that will accelerate their academic achievement. This workgroup is charged with accelerating the academic achievement of more than 98,800 multilingual students. Maryland's population of English learners is fast-growing and will shape the demographics of the State and country for years to come. 
Workgroup Meetings
To address the specified requirements and position Maryland as a national leader to support English learners, the EL Workgroup held a series of 16 meetings from August 2021 to October 2022. Each meeting focused on a guiding question and included a spotlight on national best practices and research on the topic. The virtual format enabled national experts and researchers to present and answer questions from Workgroup members. MSDE staff provided an overview of Maryland's existing policy and practices as well as an examination of pertinent data. Each meeting included an opportunity for community partners and Workgroup members to provide input and discuss the topic.  
Final Report for Workgroup on English Learners in Public Schools
This Workgroup's final report builds on the 2021 interim report and includes background information, national best practices, and research shared at the sixteen Workgroup meetings held starting in August 2021 through October 2022. Most importantly, this report presents a set of recommendations designed to evolve Maryland's existing policies and practices to focus on the assets of our English learners and ensure the best-in-class education for them.
This is not just another report. These recommendations will have serious implications for how the State chooses to educate English learners going forward. The success of English learners will determine Maryland's future success.
Workgroup Meeting Spotlight JULY 27, 2022 MEETING Guiding Question:
How can Marylands Accountability System promote transparency and improve outcomes for English Learners at all stages of language development?
---
2021
Guiding Question:
What are the model policies, laws, and regulations that ensure the success of English learners? How can we ensure that schools and local education agencies promote and sustain environments where families can easily access resources and translation services?
Guest Speaker
Dr. Olivia Hernandez, San Antonio Independent School District, explained paradigm shifts, Texas law, and best in class policies and practices that have expanded dual language offerings and scaled student academic success.
Guest Presentation
Maryland English Learner Work Group: San Antonio ISD
MSDE Presentation
Blueprint for Maryland's Future: English Learners (EL) Workgroup Presentation
Guiding Question:
What are the model policies, laws, and regulations that ensure the success of English learners?
Overview of New York State Programs to Support Multilingual Learners, Including English Language Learners

Guest Speakers
Kristin Percy Calaff, Ph.D., from Washington Office of Superintendent of Public Instruction, shared the state's vision, policies, laws, and funding that support its dual language initiative.
Elisa Alvarez of the New York State Education Department provided an overview of New York's state programs to support English learners.
Guest Presentation
Washington State's P-12 Dual Language Initiative
MSDE Presentation
Blueprint for Maryland's Future: English Learners (EL) Workgroup Presentation